Back to Market and Insights
Shift in Johnson's red lines eliminating risk of 'no-deal' Brexit
Talks on Thursday between Boris Johnson and Leo Varadkar appear to have reduced the likelihood of a 'no-deal' Brexit on 31st October, or thereafter, substantially. Gone is the aggressive tone apparent in Dominic Cummings' leaked text to The Spectator earlier this week. Instead, Boris Johnson appears to have given further ground on customs arrangements. It appears a 'pared down' Northern Ireland-only version of Theresa May's customs partnership is now being considered, effectively creating a customs border down the Irish Sea.
Of course, there are many hoops to jump through before any agreement can be implemented. Time is running short. Johnson could still struggle to pass any deal through the current Parliament and the DUP may well object. Nonetheless, the big picture here is that the Irish and UK governments are now closer to agreement – making any prospect of a 'no-deal' all the more unlikely.
A pared-down customs partnership
It appears that Boris Johnson has agreed to a Northern Ireland-only customs partnership (slimmed down from Theresa May's original UK-wide proposals early on in the negotiations). Here, Northern Ireland would formally leave the EU customs union. However, the UK would agree that Northern Ireland would still abide by EU single market rules where necessary (i.e. regulatory alignment) – no doubt with the consent of Stormont in some form. Notably, Julian Smith, Northern Ireland Secretary, has said that no one political party will be able to veto any deal that is reached.
Crucially, goods travelling from Britain to Northern Ireland would be subject to EU tariffs, collected at ports. If in the future the UK eventually charged lower external tariffs than the EU, Northern Irish companies could then seek a rebate. This means that Northern Ireland will still 'benefit' should the UK decide to pursue an open trade policy, cutting tariffs below EU rates on goods imported from the rest of the world. This is essentially a customs border down the Irish Sea, while still allowing Johnson to assert that Northern Ireland will formally leave the EU customs union. Further, it would negate the need for any checks north/south.
Still hoops to jump through but no-deal Brexit even more remote
Although Leo Varadkar has said it is possible to get a deal before the end of October, time is ticking. It is hard to see how any legally binding agreement can be found before the EU Summit on 17/18th October or how the technical details and procedures can be finalised before 31st October. At the least, a short Article 50 extension could be required should Johnson secure a deal. Of course, Johnson still lacks a majority in Parliament. The DUP may still object to the deal, and the detail of 'consent' for Northern Ireland may prove contentious. Boris Johnson may still prefer to hold an election in November, deal in hand, before trying to pass it through Parliament. Nonetheless, with the mood music improving dramatically from Dominic Cummings' diatribe leaked to The Spectator earlier this week, the likelihood of a 'no-deal' Brexit, either on 31st October or thereafter, now seems even more remote.
Figure1: Betting Odds of No-Deal Brexit in 2019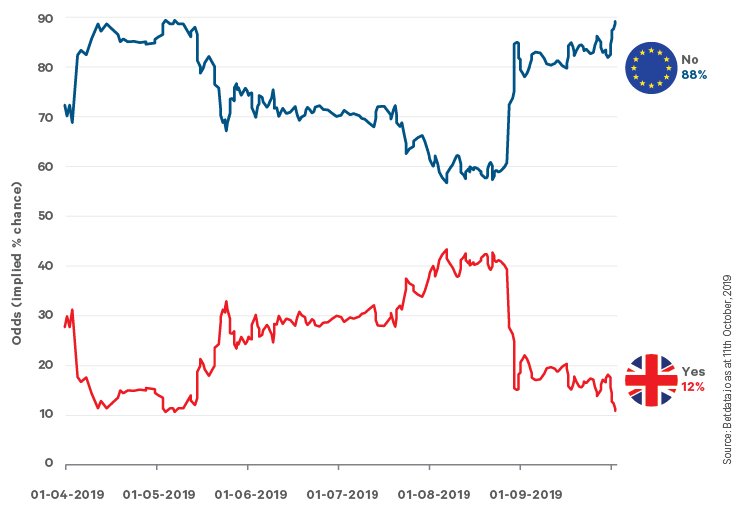 Paschal Donohoe lays out Brexit Budget
The key event in Ireland this week was the Irish government's Budget 2020. Finance Minister Paschal Donohoe set out a conservative Budget predicated on a 'no-deal' Brexit where Irish GDP growth will slow from 5.5% in 2019 to just 0.7% in 2020. The base case projections are for a government deficit of €2bn (-0.6% of GDP) in 2020, revised down from an expected surplus of €1.2bn (+0.4% of GDP) in April's Stability Programme Update. Part of the revision reflects €1.2bn set aside by the Irish government for potential 'no-deal' Brexit measures, €200m for investment in ports/airport infrastructure and technology and €650m to support hard-hit sectors such as agriculture and tourism with grants, equity investment and loans.
Of course, we don't believe that a 'no-deal' Brexit is likely. If so, the Irish government now has a good chance of building on the €600m surplus expected in 2019. The material development in Budget 2020 was the Irish government finally reining in spending – attempting to restore its reputation for fiscal prudence. The failure of the Irish government to run substantial surpluses in 2017 and 2018 despite buoyant tax revenues (instead recycled into expenditure) has attracted increasing criticism from the Irish Fiscal Advisory Council (IFAC), the Central Bank of Ireland and other institutions. Budget 2020 was conspicuous by the absence of broad-based income tax cuts, health expenditure or increases in social welfare payments such as the basic state pension, child benefit and unemployment benefit.
Could Leo Varadkar use extension to prompt Irish general election?
Presenting the government as fiscally responsible in Budget 2020 and moving towards an agreement with the UK government could put Leo Varadkar in a position to call an early election. Irish media have now started speculating on a snap poll in November. Leo Varadkar had said that May 2020 would be the "right moment". Fianna Fail leader Micheal Martin has said his position is unchanged and there should be no election in 2019.
Investment Strategy review
By Irina Bevza, and Stephen Grissing
Equities - Brighter mood around Brexit talks
As the chances of a resolution to the Brexit nightmare increased, sterling and UK equities responded with a rally. The prospect that this could be the end to three years of negotiations, led UK and Irish equities to record one of the best trading days since the beginning of the year.
The FTSE 100 which is represented by larger companies with international revenues led the rebound through Thursday and Friday, as the sentiment was also helped by the improvement in US-China stance. President Donald Trump sounded upbeat on Thursday, as he concluded the first day of US-China talks, saying that negotiations went "very well". Global equities rallied on Friday on the back of growing hopes that the US and China can reach a trade truce.
FTSE small caps also picked-up on Friday but lagged behind large caps slightly. We think that as investors continue growing more optimistic on the back of possible Brexit deal news headlines, the underperformance curse that UK small caps have been under might be alleviated. Irish stocks could also benefit as the worst-case scenarios fade away.
Sterling – the barometer of Brexit - surges higher
Unsurprisingly, sterling rallied sharply following the positive signals from the meeting between Leo Varadkar and Boris Johnson on Thursday and again today as Brexit Secretary Steve Barclay met EU chief negotiator Michel Barnier in Brussels. At the time of writing, sterling has gained 3.2% and 4.0% versus the euro and US dollar over the past two days as the threat of a no-deal Brexit dramatically faded.
There is clearly still some work to be done before any deal is passed through UK Parliament. Sterling sensitive investors may already be considering how much further gains can be expected from the currency. Reverting to the months prior to the Brexit referendum in June 2016, EURGBP traded in a range between 76-81p, so in theory sterling has quite a bit further to go from current levels of 87p. The prolonged period of uncertainty endured since June 2016 has caused a sharp decline in critical business investment as the UK economy has softened – so the extent to which sterling can return to pre-referendum levels in the near to medium term is up for debate.
UK Bonds – investors move away from safety
The trend of UK government bond yields over the past two days has been on a similar trajectory to sterling. The move away from safe assets during this period saw the UK 10-year yield move from 0.44% to 0.71% at the time of writing. The positive developments in Brexit negotiations have increased the probability that the Bank of England may move towards their preferred path of increasing interest rates 'to a limited extent, at a gradual pace'.
Warning: Past performance is not a reliable guide to future performance. The value of investments may go down as well as up. Returns on investments may increase or decrease as a result of currency fluctuations. Forecasts are not a reliable guide to future performance.