Back to Market and Insights
The case for private equity
Private equity (PE) has come a long way. Rising to prominence in the 1980s, it was viewed as a relatively niche form of investment - an outlier, practiced only by a handful of the most adventurous investors.
Fast forward to private equity in the modern era, and much has changed. While it still attracts investors who look to take the long view for superior returns in comparison to public equities, private equity has moved into the mainstream. It has become the preferred choice of funding for businesses looking to expand and/or transform. Furthermore, as the asset class has institutionalised, it has been embraced by most of the world's largest investors: sovereign wealth funds, public pension plans and university endowments.
There are a number of compelling reasons for private equity's rise. In our view, the case for private equity investment rests on three key considerations: performance, a deep opportunity set, and diversification.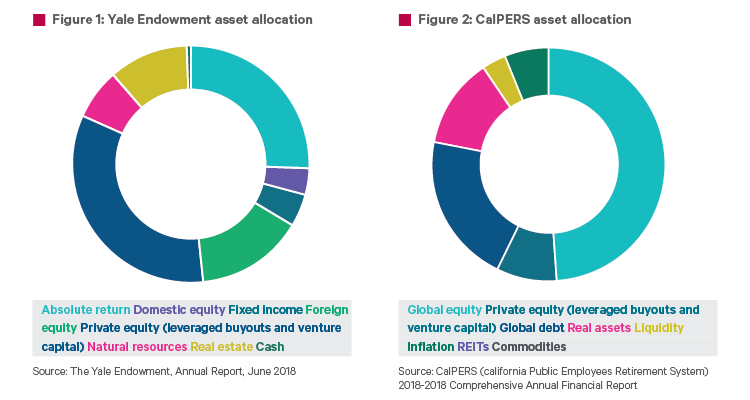 Strong long-term performance
Given its illiquidity, it is natural that investors expect premium returns from private equity when compared with public stocks. Indeed, over time private equity has more than exceeded these expectations and it has a strong long-term track record of outperformance against public stock markets.
This is the reason many institutional investors have turned to private equity: if an investor has the ability to commit a portion of their capital to a private markets investment programme, its strong performance can have a pronounced effect on the overall returns of their portfolio.
Figure 3: Relative performance of private equiry in the 25-year period up to 2018

Source: Cambridge Associates LLC US Private Equity Index: Cambridge Associates; net of fees. S&P500: Bloomberg. Both as at 31st December 2018

Not all private equity investment managers are created equal. It's important to find the PE funds which can bring a lot more to the table than just their cheque book. The best private equity firms are those which become deeply involved in the firms they acquire. Where a company is in need of transformation, private equity managers can devise a new strategy for growth: repositioning on key product lines, exploring new markets, or investing in new technology. Private equity owners also frequently drive large-scale operational improvements or hire new management talent to create value for their investors. Private equity funding can also be used to acquire complementary businesses, strengthening a company's earnings.
A world of opportunities
Public stock markets dominate the headlines of the financial press, offering buyers a broad array of investment opportunities and account for a large portion of most investors' portfolios. However, only a fraction of all firms are publicly listed. Many businesses, from family-owned enterprises to those held by their employees, are never available for public investment. And this is not confined to small companies, many major multinationals remain in private ownership forever: think of Aldi, IKEA, Mars, AirBnB and Revolut, to name but a few.
As a result, there is a world of investment opportunities outside of the stock markets, and private investors do not have to confine themselves only to publicly-quoted names. Creative private equity fund managers find deals in all sorts of situations: perhaps an established company is undergoing transition from its original founder, and needs fresh capital and a new strategic direction. Perhaps a conglomerate is willing to sell one of its undermanaged subsidiaries which has the potential to thrive under its own steam. Or maybe a company has languished in the public markets for a number of years and needs to be taken private and overhauled to show investors its worth.
Private companies often offer fundamentally different business models to their public counterparts. The most obvious examples of this are in the growth capital space: early-stage businesses which require an injection of funding to expand. Indeed, it has become very common for fast-growing tech and internet names to spend extended periods in private ownership before going public: Spotify has been streaming music since 2008, and went public in 2018. Uber was founded in 2009, had over 140 million trips in 2014, and just went public earlier this year. Ant Financial, valued at $150bn in 2018, and by some measures the world's most valuable startup, is still private with over 600 million users and 9,000 employees. With companies opting to remain private for longer, private equity is often the best way to gain exposure to the next wave of innovation.
Differentiated returns
Diversification is a powerful tool in an investor's portfolio: combining investments with unrelated sources of returns can lead to a smoother investment journey and better overall performance.
By its nature, private equity is a good diversifier for most portfolios. While stock markets fluctuate based on investor sentiment, central bank announcements and, increasingly, early morning tweets from the White House, these factors have little effect on private equity. Its performance is far more responsive to the operating performance of its portfolio companies. Because private valuations don't move around that much, they sit well alongside other, more temperamental assets and can help investors weather challenging markets.
Caveat emptor
No investment is without risk and private equity is no exception. Before making an investment in private equity there are a number of factors to consider. While patience is one of the strengths of private equity, most private equity funds will tie capital in for ten years or more. So investors need to ensure they can lock their money away for an extended period. Compared with public equity investment, private equity investment is a more complex and involved process and as a result it involves higher fees than listed equity investment, including performance-related fees. Private equity investment sits relatively high on the risk spectrum, typically involving debt financing in each transaction. Therefore, as with the institutional portfolios above, it can only be considered as part of a diversified portfolio.
Private equity investment in the current environment
Given that private equity is a long-term, patient investment with the ability to phase acquisition and sale activity, it's not an asset class which investors should try to time. However, there are a couple of reasons why private equity appears particularly attractive at the moment relative to other investment options.
Firstly, while private equity has seen strong investment activity over the last few years, and this has gradually increased the price paid for the average private company, valuations in private markets remain materially lower than those in public markets.
Figure 4: Public versus private equity valuation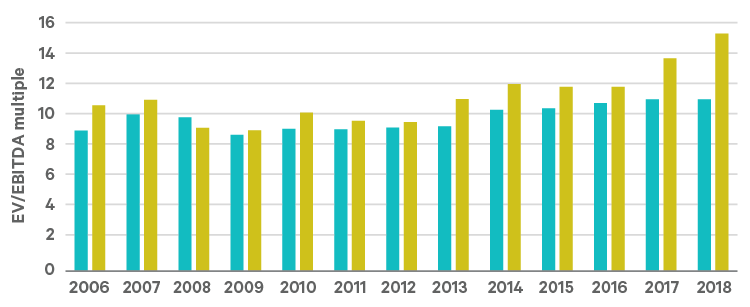 Source: Bain & Company Global Private Equity Report 2019, Neuberger Berman IQ Investment Quarterly Winter 2019 & Bloomberg. EV :Enterprise Value ; EBIDTA : Earnings Before Interest, Taxes, Depreciation and Amortization.

Secondly, public equity markets have had a strong run since the financial crisis. While we still expect them to produce positive returns in the long run, it's unlikely that the next decade will see the robust stock market returns generated in the last. At the same time, bond yields are at historic lows and in many cases negative. As investors search for ways to drive their portfolios forward, it could be a good time to consider the uncorrelated, idiosyncratic returns of private equity.
Download MarketWatch
This article is from our latest edition of MarketWatch.
Warning: Past performance is not a reliable guide to future performance. The value of your investment may go down as well as up. If you invest in this product you may lose some or all of the money you invest. These products may be affected by changes in currency exchange rates.
Warning: Forecasts are not a reliable indicator of future performance.
Other articles you may like