About the Davy group
Established in 1926, the Davy Group is Ireland's leading provider of wealth management, asset management, capital markets and financial advisory services. The Davy Group is headquartered in Dublin, with offices in London, Belfast, Cork and Galway. Employing over 680 people, we offer a broad range of services to private clients, small businesses, corporations and institutional investors, and organise our activities around five interrelated business areas - Asset Management, Capital Markets, Corporate Finance, Private Clients and Research.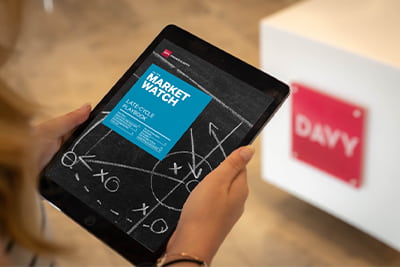 Doing business the Davy way
Founded in 1926, we have continually broken new ground in the industry by bringing about the expansion of financial and capital markets in Ireland and providing new opportunities for investors and growing companies. By harnessing the energy, talent and experience of our people and doing business the Davy way, we have managed to deliver extraordinary results for our clients. We have done this with absolute commitment to effective corporate governance, and a strong culture and ethos of compliance.
Legal entities
The Davy Group comprises a number of legal entities including;
J&E Davy (Trading as Davy)
Davy Asset Management
Davy Corporate Finance
Davy Investment Fund Services
Davy Securities
Advance Fund Management Limited
Davy Fund Managers
iCubed Training
Research and Consulting

Davy is an independent company owned by management and staff.