Back to Market and Insights
Davy view: What might a UK general election mean for Brexit?
At the time of writing, UK politics is at a crossroads. The UK Prime Minister Boris Johnson has tabled a motion in parliament calling for an early election, perhaps on October 15th, just before the crucial EU Council Meeting. However, to do so he will require two-thirds of the House of Commons to vote with him. Labour leader Jeremy Corbyn has insisted he will not countenance an election until after a bill published by Hilary Benn this week and intended to delay Brexit until January 31st, is enacted into law and because he fears Boris Johnson could call the election in early November, after the 31st October deadline creating the risk of a 'no-deal' outcome.
Recent opinion polls have given the Conservative party a consistent lead. Clearly, Johnson is attempting to frame the next election as a 'parliament vs the people' contest, helping the Conservative's see off the Brexit party led by Nigel Farage and taking advantage of a remain vote split between the Labour party and the Liberal Democrats. He may still get his opportunity. Should the 'rebel alliance' of Labour, Liberal Democrats, Scottish Nationalist Party, Plaid Cymru and Greens successfully pass their bill this week – Jeremy Corbyn will have little excuse but to support an early election in October.
It is still not clear if the Hilary Benn bill will pass. Johnson could also hold back the bill from being enacted, provoking a legal challenge, or frame his article 50 application to the EU in such a way as to guarantee a refusal. Moves are afoot to limit the Lord's debate on the bill until Friday evening, but there still could be attempts to filibuster – providing a potential obstacle. That said, Johnson's move to 'pro-rogue' parliament has not been popular and after a bruising defeat in the Commons he may be wary of being seen to be playing fast and loose with the UK's unwritten constitution.
Has Johnson merely been positioning the Conservatives for an election?
Many commentators have been saying for some time that Boris Johnson has been angling for an election. Perhaps what was surprising is that he is considering an election in early October, abandoning the threat to delay the election until early November, thereby creating a credible threat of 'no-deal' to attempt to force concessions from the EU.
However, there are several reasons why an early October election might suit Johnson;
An election in early November would be in the midst of 'no-deal' disruption.

Even if Johnson achieved agreement with the EU, he would have to see off 'die-hard' ultras in the ERG (European Research Group) group (Mark Francois, Steve Baker et al) opposed to any deal.

If the Conservatives can get a majority, Johnson will no longer rely on the support of the Democratic Unionist Party, potentially opening up new opportunities for compromise (e.g. a Northern Ireland-only backstop).
The Financial Times reported on Tuesday the 27th of August that Johnson will "face down hardline Conservative MPs" and that he had reassured Angela Merkel and Jean Claude Juncker that if changes to the backstop were agreed, it would not lead to a wider re-writing of the Withdrawal Agreement. This followed an article in the Daily Telegraph from former Conservative leader Iain Duncan Smith entitled "Getting rid of the backstop isn't enough". So perhaps Johnson will be tempted into an early election, if he believes he can secure a majority if the opinion polls swing in his favour.
Figure 1: Recent UK Opinion Polls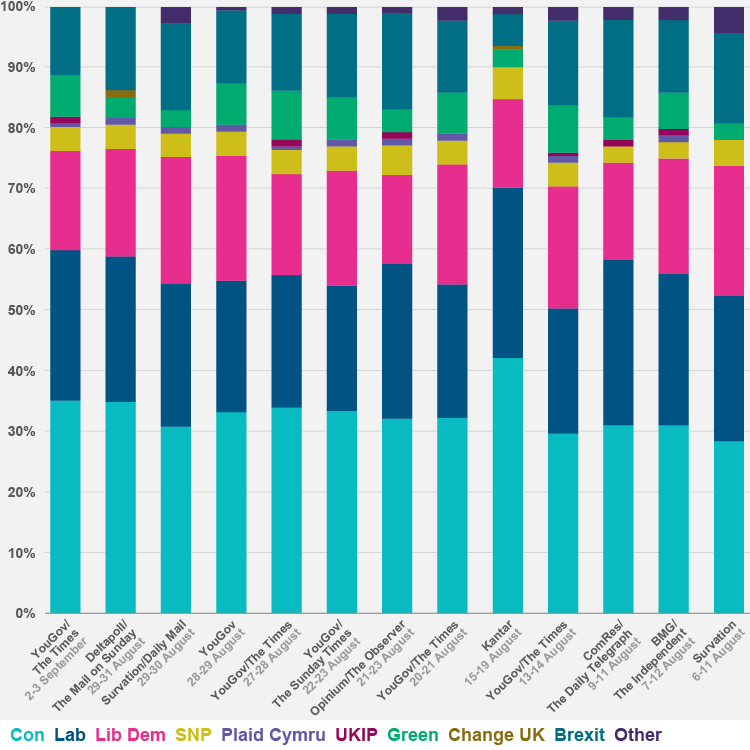 Source:

Yougov/The Times, YouGov/Sunday Times, Opinium/The Observer, ConRes/The Daily Telegraph, BMG/The Independent, Survation;

Sept, 2019
However, UK public opinion is volatile and may have reacted negatively to the tactic of suspending Parliament. A snap YouGov poll on Thursday indicated that 47% thought shutting down Parliament was "unacceptable" with only 27% disagreeing. Ruth Davidson's departure as leader of the Scottish Conservatives will make the election more difficult for the Conservatives, so they may lose many of the 12 extra seats she helped win in the 2017 election. If Johnson fails to secure a majority it would show there is no mandate for his strategy, probably reducing the likelihood of a disruptive 'no-deal' Brexit.
Irish government still waiting for credible alternative arrangements
EU and Irish government officials have consistently said over the past week they have not received any concrete detail on proposals for 'alternative arrangements' to the Northern Ireland backstop, despite Boris Johnson's protestations of progress in the negotiations. Leo Varadkar and Simon Coveney have reiterated that trusted trader schemes, the use of technology and checks away from the border will not be sufficient. The Financial Times also reported that officials in Brussels remain sceptical that Johnson can deliver alternative arrangements that can maintain an open border as such systems "don't yet exist" and there is "no sign" of an alternative plan.
Don't forget about Europe
The reaction in Brussels and Europe

to Boris Johnson's decision to suspend parliament was muted. One exception was Guy Verhofstadt, the European Parliament Brexit representative, who said "

Suppressing debate on profound choices is unlikely to help to deliver a stable future EU/UK relationship".

It is often forgotten that the European Parliament will be required to ratify any agreement alongside the European Council. The European Parliament is currently scheduled to be in session through October 21st-24th and then not until November 25th-28th. This clearly complicates the schedule for any 'last minute' deal.
Central Bank of Ireland warns on 'no-deal' Brexit
Last week the Central Bank of Ireland became the latest institution to warn the Irish government on the dangers of a 'no-deal' Brexit, which "would have an immediate and severe impact on almost all areas of economic activity" and that sectors such as agriculture and manufacturing would be "disproportionately affected by the imposition of tariffs and non-tariff barriers". The Central Bank highlighted its estimate that a 'no-deal' Brexit would reduce Irish Gross Domestic Product (GDP) growth to just 0.7% in 2020 and decrease the level of GDP by 6% in the long term. This is more severe than previous analyses (see table below).
There is no doubt a 'hard Brexit' would have a profound impact on the Irish economy. It is not certain whether Irish exports destined for the United Kingdom would face tariffs. Also, Irish exporters that use the UK as a 'land bridge' into Europe could face significant disruption. In addition to trade disruption, the uncertainty of a hard Brexit would be expected to affect asset prices – especially the sterling exchange rate. With no certainty on future trade arrangements it is likely that many Irish households would decide to put off spending decisions, or companies plans to expand their operations and employment. In summary, though the impact of 'hard Brexit' for Ireland would be very significant it is hard to know whether it would be sufficient to push the economy into recession.
Figure 2: Impact of Brexit on Irish GDP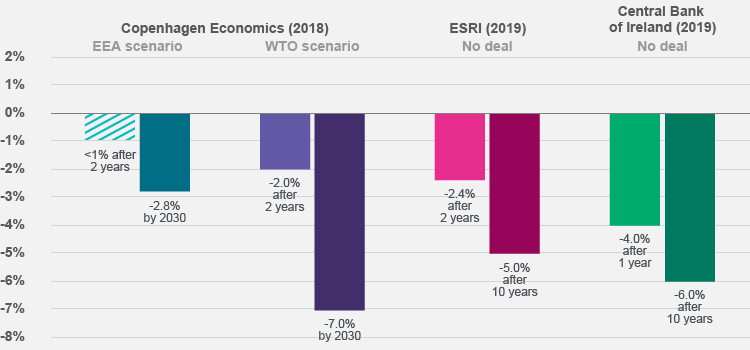 Source: UK Treasury, Copenhagen Economics, The Economic and Social Research Institute (ESRI), Central Bank of Ireland
Framing Budget 2020 all the more difficult for Paschal Donohoe
In its Summer Economic Statement (SES) the Department of Finance estimated that a 'hard Brexit' could lead to a deterioration in the public finances of up to €6bn. This would mean that rather than running a small budget surplus of 0.4% of GDP next year, the out-turn might be a substantial deficit of 1.5% of GDP. This makes framing Budget 2020 all the more difficult. Just this weekend Irish media reported the Department of Finance is now actively considering a budget based on a 'no-deal' scenario – where effectively growth will close to flatline in 2020.
There are competing choices for the government. First, the government could run a large deficit to attempt to cushion the impact of a hard Brexit onto the Irish economy. Second, the government could delay spending decisions and tax cuts to 'balance the books' and protect Ireland's debt/GDP ratio. We expect the final Budget decision would probably be a mix of these two strategies – perhaps putting off current expenditure increases, but prioritising capital expenditure projects and supports for hard hit sectors such as agri-food and indigenous manufacturing.
Log into My Davy, the easy way to view your Davy account online
It all begins with a simple, no obligation conversation. Call 01 6148778 or
Comfortable making your own investment decisions without investment advice
Other articles you may like